As I go through my days, engaging in activities ranging from the ridiculous to sublime, I'm continuing to count all the lovely gifts God gives me.
The more I look, the more I see...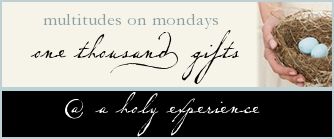 (A thousand gifts #440-454)
His mercies are new every morning and they are unique to my needs at this moment.
answered prayer about that little something that was big to me
the giggles of little girls...silly time with ella-belle
sharing our personal truths with each other...who we are and who we want to be
seeing sweet bethany in wedding dresses and thinking about God's faithfulness in her life
sharing the Word with friends in the car and praying together
a new opportunity to love the Father and show His love to someone who desperately needs it
enthusiastic thunderstorms in april and the smell of the wet, spring ground when the rain stops
the sweet man who owns my home and takes such thoughtful care of my lawn
a morning spent with my kari and sweet little kylie, and sharing conversation with her precious, one-year-old self
Do you ever feel like your heart is too full to properly express yourself?
Yeah, that would be me today :)
How has God blessed you this week? Are you counting?
Happy Monday!
Renee