Let the morning bring me word of your unfailing love, for I have put my trust in you.
Show me the way I should go, for to you I lift up my soul.
Psalm 143:8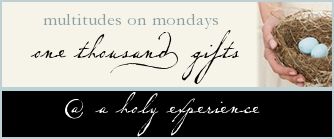 (A Thousand Gifts #326-346)
the smell of a warm rain
mom's potato soup...a full refrigerator
surprise at the comfy temperature when I step outside...anticipation
children singing...new friends...unanticipated provision...a full tank of gas
this smile...
visiting with 92-year-old mommy and soaking in her grace, and gentleness, and selflessness
clear breathing...uninterrupted sleep...answered prayer
running into people I care about in unexpected places
plans to reconnect with my friend...having work to do, a purpose to my days
the book of lamentations
the dollhouse sitting in the corner...daughter-tweets
...and this face
Happy Monday!
Renee :)