Today is Mamaw Farmer's birthday. She isn't here with us today. She went to be with Jesus in
November
. I'm so very glad she's with Jesus & certainly wouldn't wish her to be back here in her tired, centenarian body, but I have to admit things feel just a little emptier here on terra firma.
She lived more than 100 years. One-hundred years. She lived for decades after her husband died. She buried most of her children. She worked harder and suffered more loss than I can fathom. Yet I can't recall a single time when in my presence she was complain-y, or whine-y, or otherwise a big ole baby. I always thought she was so strong. Clear as day I can feel both of her hands enthusiastically patting mine in love or reassurance, or as was quite often the case, sheer emphasis ;) Like it was yesterday I can smell the rosy lotion from her bathroom and feel the chair beneath me as I sat in her kitchen, querying her about her sons who were in the war and other such histories of her life. Even as a teenager I remember being amazed at all she had experienced.
More bittersweet, perhaps more precious still, I can hear her emphatically, pragmatically, reminding me that I was loved...declaring that nothing as inconvenient as fractured familial relationships could make her unlove me.
She always reminded me. She somehow recognized that reminding was important.
I loved her so much. and I miss her.
...and I am so thankful we do not mourn as those who have no hope :)
God whispers His I-love-you's to me in countless ways every day of my life.
He showers His love upon my head endlessly.
Seriously, it's raining abundant good blessings around these parts.
So on this Monday morning on the seventh of February, the day we celebrate the life that Elsie Farmer lived, I again choose to reflect on just a few of those love-you's, and thank Him right out loud emphatically...perhaps a bit pragmatically, for them :)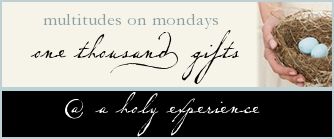 Thank you thank you, sweet Jesus, for
the reminding
the strength she exhibited...the warmth she enveloped us in...the example she left in her wake
memory, another precious, living-color gift that You give that breathes beautiful life into mere existance
that sharp prick to my hard heart that is YOU speaking, bringing fresh awareness
fresh tears falling in response to hearing You speaking
unplanned festivity
five-year-old Elijah's hand tucked into mine
that very same boy inching ever closer until practically in my lap...his response to the sheer JOY of the excitement that is his first circus
...and the occasional thumbs up sign he turns to give me??? priceless
revelation 21:4
sweet sweet music that inspires me to hug Your neck...and get busy!
Your unfathomable desire to change me from a saul to a paul...not just willingness but desire! You love ME, and You want to take my pitiful self and use me for YOU!
the gift of hearing with my ears...
and hearing with my heart
the gift of another day with which to honor You
Happy sweet Monday,
renee
(A Thousand Gifts #274-290)