It's been a very, very quiet week at my house this week. I've felt a little...unwell and have pretty much stayed to myself. With a couple of exceptions it has been just me & my favorite black blankie (and my laptop...and my job.) All in all, not a terrible way to get through a week in which you feel pretty awful.
So my list this week focuses largely on the ways God has loved me even while I'm pretty much, shall we say unattractive?
I just love Him! :)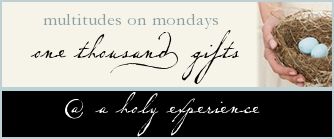 I'm so thankful for
my steady foot catching me from tumbling all the way down those stairs tuesday morning
my job that can be done in my jammies with the mentholatum smeared on my nose and the hair piled up in the clip
my sweet friends who care and check up on me, people who love me and forgive me for not responding to their calls
mentholatum, apple juice, puffs extra soft, grilled cheese, alka seltzer, campbell's chicken noodle and tomato, tylenol
that text informing me of the pepsi left at my front door
that sister who left the text and the pepsi
temporary illness, the perspective that comes from not always feeling well
the quiet and stillness that feeling yucky inspires, the awareness that even in my flu-ish discomfort I am blessed with far more than most of the world - my discomfort is much prettier than the daily reality of too many
unseasonably warm days, the warm february sun on my face while curling up in my chair under a blanket, those first beginning buds popping out on the tree in my backyard
watching water arrive in Ola Nagele, and then savoring my own hot shower
What kind of joy has God sent your way this week?
Happy Monday, y'all!
Renee
(A Thousand Gifts #306-325)