It is very true that I am a person who almost always focuses on the positive.
I am a classic under-reactor who persistently believes that things will be ok...I believe people mean well, even when they might not...When things are terrible and I say I'm fine, I'm pretty much mean it.
I have always been acutely aware that even if things are kind've crummy for me at the time, many people's lives are much, much crummier at the very same time.
For this reason I guess sometimes I can give the impression that life is simply fabulous for me all the time and that I spend all of my days skipping around while giggling and dispensing hugs.
Okay, the hug part is pretty accurate :)
What I don't often say is I have experienced a lot of not-so-easy through the years. I have lost things I believed I could not live without. My heart has been broken, and I have suffered through extended periods of intense stress.
That being said, I have also basked in the comfort of Jesus. I have felt his comfort, and direction, and that

glorious peace

that people talk about but must be experienced to believe. In
Ann Voskamp's
post last Monday she made some points which I believe with all my heart. I know that suffering is not only valuable, but actually desirable, because I have lived the precious experience of moving through the yuck with Christ's protecting and comforting arm around me.
However, I realized I might be missing part of the point when she stated that
Counting the one thousand gifts means counting the hard things - otherwise I've miscounted.
As someone who doesn't usually give much credence to the hard things because I'm not a fan of all the dwelling, I suddenly realized I might be glossing over...skimming right past...some of the most relevant parts of my personal story.
So for that reason, I determined that this week I would try to reflect on some of the hard things in my life and include them in my list,

also wonderful gifts from the God who loves me with abandon...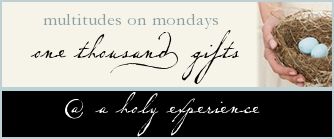 (A Thousand Gifts #347-367)
journals filled with pages upon pages of heart conversations with my Father, documentation of his never-ending faithfulness, while faithlessness seems to abound
losing the entire post on hard things, which pushed me to think about it all, again, gaining ever more joy in the focus
reveling in my daughters' faith, feeling the heart-surge when recognizing the growth that has come from their own hard things
financial need, which ensures my continued awareness of complete dependence upon T

he Provider of all I will ever have

...memory of past provision
a silent house free of distractions from time with Jesus, the lover of my soul
the certainty that He is all I will ever need for as long as I will live

...answered prayers
the empathy which comes from the enduring, and watching God use it...the joy that comes from being useful and knowing it wasn't all for nothing
waking to the rain pounding on the roof...baby hugs on a weekday...celebrating the birthday of a dear friend...successful surgeries...relieved mothers...chocolate cake and giggles with my daughters...unplanned salad suppers...long conversations with far-away friends
hopeful anticipation of what He will do next with this messy life that is all mine
Happy Monday, Y'all!
Renee :)