Gratitude unlocks the fullness of life.
It turns what we have into enough, and more.
It turns denial into acceptance, chaos to order, confusion to clarity.
It can turn a meal into a feast, a house into a home, a stranger into a friend.
Gratitude makes sense of our past, brings peace for today,
and creates a vision for tomorrow.
Melody Beattie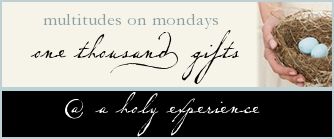 On this second Monday of January I am filled with thankfulness. As I reflect on all I have and

all I have to give

it takes my breath away, and I feel a renewed sense of purpose and responsibility to share with others.
Please show me, Sweet Jesus, how to fill some need for someone this week,
toddlers arranging clementines, and
early morning sunshine streaming through my kitchen door and the way the filtered light dances around the room

pinto beans bubbling on the stove

footie pajamas
smiling infants
diligence
the tingle of my cold nose while burrowed under my down comforter
the sound of the heat kicking on against the raging winter wind outside my window
psalm 65:11
dreams that come true, God's promises kept
the internet and the spiritual encouragement that can be found there
hot showers
trimmed bangs
passion 2011 streaming live…
replaced expense checks
lazy saturdays with family
visiting the "dollar store" with a five-year-old
panera wi-fi, and
Happy Monday!
Renee
(A Thousand Gifts #212-235)