Spring break is over around here and I can scarcely believe we're back to the old grind of meandering walks interspersed with Curious George, addition facts, and Max Lucado's "Tell Me The Secrets."
There might or might not be some new spelling words featuring the short "u" sound this week as well.
I'm not at all sure we'll be able to handle all the excitement of diving into such a schedule after an utterly boring ten days in Florida by the sea, but I'll do my best to help him pace himself.
(Note: I did not cross the Florida State line, nor did I bore myself with seaside views. That misery was all Elijah. All.him.)
(I'm not bitter. Not at all.)
After all, it matters not where I am while so busy counting all the blessings raining down.
Plus, I don't have piles of soggy, sandy beach towels to launder this morning.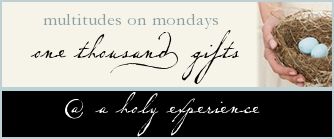 (A Thousand Gifts #1116-1139)
baby noah's safe arrival and sharing my friends' happy
the fun that comes with understanding it gets ever-better
seeing his happy-to-see-me face for the first time in days
no soggy, sandy laundry awaiting me ;)
marking things off the list
fresh fruit & veggies in the fridge
the hot krispy kreme doughnut
making new friends, and missing old friends (just a few weeks!)
mason blowing the dandelion, straight into his face, and his funny little smile
the optimism followed by triumph that accompanies new recipes with yummy results
sweet (e-mail) conversations with hurting family
pushing peanut through target
sunny lunches with kari and phone tag with kate
sweet certainty that God's taking care of sweet J
trusting His timing and trusting His plan
knowing He understands when the trusting seems hard
strong, small girls in baseball caps and beautiful baby boys in seersucker suits