Well the official Christmas festivities are over

.
The gifts have been opened, and Christmas movies viewed, and messes made, and the requisite cupcakes consumed.
However

, we're still in the visiting-with-each-other-portion of the holidays, otherwise known as my favorite part. Jerm had to go back home Saturday night to be in church on Sunday morning, but Kate and the babies are here for a couple more days before they, Kari, & Drew all head to the beach for a few days.
Sooo, we did what we often do in order to be all together all the time... we moved the party to Kari's! Other than all the packing up that has to be done I always love this arrangement. I slept in my own bed Saturday night, amid all the disaster area-ness that is my home post holiday, and then loaded up the car with all manner of toys, and left-overs, and dirty laundry, along with all of my work paraphernalia and yes, a pair or three of clean undies, and proceeded to make the 10-minute trek to my baby's home.
...where the hugging and baby jiggling and smushy-fruit-eating and sleeping-Audrey-snuggling re-commenced.
Good, good times.
So far, so good. Audgie was pretty good about letting me work last night while still being utterly adorable and also HI-larious.
That kid is just flat out fun, times a lot :)
Today Kari is going to bring Ky and Mason over for more wacky hijinks's, and I'm making the crock pot chicken along with mashed potatoes that my very own with-child daughter has been dreaming of for a week or three.
I am predicting another very good day here in the valley.
God has blessed me and my family

with so very much, and I'm so thankful and try to never take one moment of our time together for granted. I didn't post anything last week, but rest assured,
I'm still counting!
Below are a few more of my thousand.
(A Thousand Gifts #623-634)
pink fingers and toes
his smiles that come when he sees me...
...and her sense of humor
watching my boys working together
overdue breakfast dates and favors from my neighbor
naptime snuggles
air conditioning! and dishwashers! and new car batteries!
grownup patience and toddler manners
and bubbles in the grass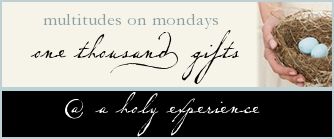 Happy Monday!
p.s. The above photos were taken by my wonderfully-talented
Kari
. Thanks Darlin' for being such a sweet sharer. I love you!