What a nice weekend :)
Saturday I stayed close to home and actually exhibited a minor amount of productivity...but Sunday is where the Lots Of Happy took place. Mandy and her little family made a super-brief stop to meet Peyton and hug Kari and me, and to finally introduce us to her sweet baby girl. I hadn't seen her (Mandy) in more than three years and that's just too long to go without seeing one of your favorite people, so that was good. Kayleigh is just a bundle of happy wrapped up in a lot of yummy :)
I might also have walked around jiggling, swaying, bouncing, and patting, to be alternated with a fair amount of rocking, and snuggling and smooching-the-head-of sweet (and also yummy) Peyton.
A very good day.
Indeed.
Today is a "teacher workday" (Ha! and also Yaay!), and I'm meeting Kari and Darlene (Hi Darlene!) for lunch at the Tea Tavern.
Oh y'all, the Tea Tavern. I love it so. And by so I mean SO MUCH.
Darlene is my friend who lives in Thailand and has been in the US for months and months and who literally lives down the road from me...and this is the first time we're exchanging hugs. Evidently we are both busy and also procrastinator-y. It's going to be a girly, full-of-a-lot-of-words kind of lunch. (And of course Peyton will also be in attendance because seriously, does anything top off a girly lunch better than a brand new baby with accompanying snuggles?)
(No. The correct answer is no. Because a brand new baby tops off any event perfectly.)
After lunch, life goes back to normal with the dirty bathrooms, and the job that keeps the rain-soaked roof over my head, and lesson plans and unfolded laundry.
But you know what? I love that part too:)
I'm thankful for all the different parts that sum up my days. No matter what a specific moment may look like, all the messy, happy, and tedious...those wonderful details are the color that fill in all the corners, and every last bit of it is a gift that will likely slip right through even my tightest grasp.
So I keep counting, and recording some of them. Lest I forget....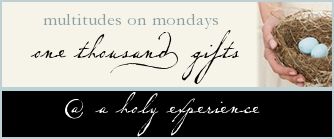 (A Thousand Gifts #1047-1062)
mandy hugs and lazy visits
the baby burrowing in my neck, breathing deep
hot doughnuts, and math on the porch, and long morning walks
blooming daffodils and dogwood trees
hearing the rain through open windows
late night surprises and re-reading John
new CDs and singing along with the car windows down
breaks from the usual and watching kayleigh play
new puppies (not mine!) and good report from the surgeon
Happy Monday, Y'all!