For the life of me I can't think of anything deep or life-altering to share this morning.
As opposed to all the other mornings when my absurd meanderings are so full-to-the-brim of deep.
At the moment my head is full of all manner of fascinating. Things like spelling lists and first-grade-teacher blogs and good grief I forgot to ask Kari if I can make use of her bulletin board.
I told you, fascinating.
It is for this reason I'm going to - for two weeks in a row - jump straight to a few of the blessings that,
when I stop to contemplate, take my breath away.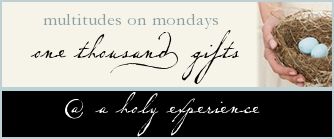 (A Thousand Gifts #941-955)
rainy days and the peaceful way he snuggles contentedly with his eyes wide open
little boy obedience
strawberries in winter
long, hot showers first thing in the morning...or last thing at night
super why!
random, unexplained patience and finding humor in the humorless
when the stars burn down and the reckoning
discovering new (free!) resources
hearing marie's precious baby is still fighting
prayer

. praying for my friends...and my children...and people I haven't even met
good reports from her emergency surgery
monday's shiny, happy newness
Happy Monday:)