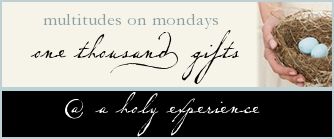 I was just a child...thirteen years old...when I first met Mamaw Honaker. She was my boyfriend's grandmother and I loved her right from the start. She seemed so...grandmotherly :)
I never really had grandparents and happily embraced Jim's as my own years before actually marrying into the family and becoming "bonafide."
But probably even more important to my fragile heart, they embraced me.
Mamaw was so kind to me and really showed me what a grandma looked like. She was warm, and gentle, and loving. I still appreciate the care packages and sweet letters she sent to me while I was away at college, and the birthday cards and other sweet gestures meant the world to me.
I can still see her sitting in the bleachers at our ball games, and although she lived in Roanoke for years and years, I can close my eyes and be in her little kitchen in Bluefield. (I was endlessly fascinated with their trash compactor. I have no explanation :)
Sitting in my kitchen today is a recipe box holding many recipes bearing her name,
copied meticulously in that kitchen.
In nearly every memory of my every milestone she is there.
Even through some really miserable times I never sensed the slightest shift in warmth. She loved me because she chose to, and I loved her with all my heart. How could I not?
There is something incredibly special about grandparents, and I'm so thankful they were willing to share themselves with me. To be gifted with such beautiful relationships through the sheer generosity of heart makes the experience all the sweeter and not to be taken for granted.
and I never have

.
Mamaw (Martha) Honaker went Home this week after living a long life filled with love and purpose, and she left a legacy of which to be proud. She lived and died surrounded by her children, and grandchildren, and great-grandchildren, and even great-great grandchildren(!) who love her, love the Lord, and appreciate her for everything she has been to us. We are so thankful that she is at rest with Jesus.
And we're thankful that we got to share in the sweet life she lived here.
"Charm is deceptive, and beauty is fleeting; but a woman who fears the LORD is to be praised.
Honor her for all that her hands have done, and let her works bring her praise at the city gate."
(A Thousand Gifts #870-885)
sweet memories all my own
knowing she's with the Lord and rejoicing that we'll see her there
anticipation of new life even while saying goodbye
the kindness of strangers
unconditional love
open windows in January (!)
arms filled up with the babies
the smell of their heads, the warmth of their snuggles...their fierce hugs
hot showers
new packages and the wave for the ups-man
baked macaroni and cheese
robin at my door
hugs from those not seen in a long while
friends who understand